---
Navy @ South Carolina Football Game 2011 Events Photo Albums
Photo album of the reception dinner
Photo Album of the tailgate and football game
Friday Evening, September 16, 2011: Reception dinner party for the USNA Superintendent
Our Alumni Association chapter hosted a formal dinner at the Summit Club on 16 September, the night before Navy beats USC. Our guest of honor was the Superintendent of the Naval Academy, VADM Michael H. Miller '74. Accompanying him were Commandant Bob Clark '84, Dr. Andrew Phillips, Provost and Academic Dean, and Chet Gladchuk, Director of Athletics.
The "Supe" spoke enthusiastically about the mission and accomplishments of the Academy and our midshipmen. USNA is at the top of the lists among all service academies and in the top tier of just about any category of US colleges and universities. USNA's reputation continues to grow, and Admiral Miller thanked our alumni families for helping sustain excellence at the Academy. Chet Gladchuk also spoke of the "winning" attitude our mids bring to every event. "They might be out-weighed, but they won't be out-played".
We also were honored to have a big contingent of National Alumni Association staff, including CEO Byron Marchant, who gave an inspirational talk. Skid Heyworth (Alumni Assoc Exec VP) and his wife, Maria, joined us along with Kristin Yale, Chapter Support Coordinator and Tonya White, Communications Coordinator.
SC was well represented at the event. Congressman Joe Wilson, 3rd District - Lexington, came as a guest of Monty Felix '70, along with SC Attorney General, Alan Wilson. And Ike McLeese, President of the Columbia Chamber of Commerce attended with his wife, Sue.
Needless to say, our 75 +attendees were delighted to have so many USNA leaders join us for the evening. It takes a special event (or an away event!) to get folks of this caliber in the room at the same time given busy schedules. We all know that they came together with us last night for both reasons. They were away at a special event.
Our thanks to Mike Kehoe '71, who organized the dinner and served as MC and host.
Saturday Afternoon, September 17, 2011: Navy Tailgate Party
The Naval Academy Parent's Club of South Carolina hosted the tailgate inside the SC National Guard Armory, 1225 Bluff Road, across the street from Williams Brice Stadium.
Saturday Evening, September 17, 2011: Navy @ South Carolina Football Game
Navy fought valiantly against the #10 ranked USC Gamecocks, but lost the contest 24-21.
---
September 16, 2010 Meeting
Our 2010 USNA Summer Seminar student visits during the
September 16th meeting.
Our chapter sponsored Jameece Jenkins, a senior at Eau Claire High School at the Academy's summer seminar this last summer. Jameece has participated in the NJROTC program since her freshman year, and was the cadet CO as a junior. She plays softball and tennis, and after her great summer seminar at USNA is planning on applying for admission with the class of 2015.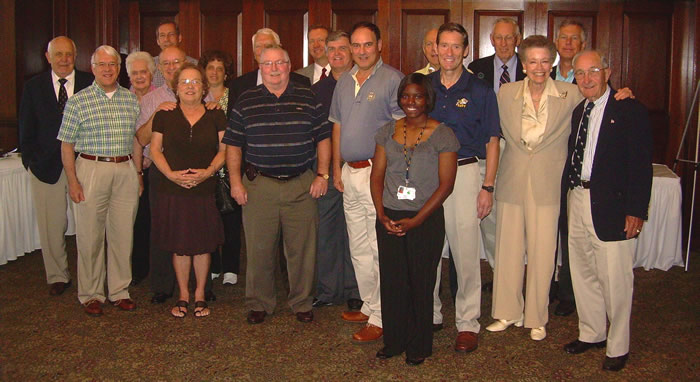 USNA alumni and spouses who attended the September 16, 2010 luncheon meeting. Jameece Jenkins is in the front between our President Mike Kehoe (right) and Treasurer Perry Ramicone (left).